Are you looking for the right shade of paint for your kitchen? If so, you must know that doing so is not a cakewalk since there are so many to choose from. However, it surely is worth the effort. A simple change of color can go a long way in transforming your kitchen interior into something captivating and interesting.
Choosing paint colors will not only take your time, but it can also leave you frustrated. With several shades available, you will feel overwhelmed thinking which color will complement your kitchen cabinet design. Don't you fret? There are certain colors that work their best in specific rooms.
When it comes to kitchens, colors like yellow, red, white, and blue (to name a few) truly stand out. They add that sparkling touch to one of the most important areas of your house. Each of them is good and capable of doing something unique and exciting for the room, but they create the space all the more inviting and warm.
Being one of the most crucial shared spaces in one's home, many homeowners don't think twice when it comes to revamping their kitchens. In fact, this environment is progressively given high preference when it comes to changing the kitchen interior design. No matter the size of your kitchen, you can find the right color for your kitchen.
How Can You Choose the Right Colors for Your Kitchen?
Well, you can consider using any color in the kitchen. But, variety and intensity play a vital role as they make a great difference. Avoid using bright colors if you have a small kitchen. Instead, use those which seem more daring and consider using elements as well, but make sure you use them in balanced proportions.
So, let's get started.
Blue

It is another great color that works really well in areas like kitchens. When you opt for lighter shades of blue, they create a brittle, sparkling look. Many homeowners rely on these terrific shades for their kitchen walls, ceiling, or cabinets. Blue is a stimulating color and it can work its magic when used sensitively. In fact, using dark blues is also good for kitchens to give prominence to the rest of the room with touches of gray, white, or other light-colored tones to keep the room from feeling extremely intense.
Orange

As a less important color, orange not only helps keeps the environment cozy, but it also stimulates hunger and joyfulness. It goes well with the counters of the kitchen interior. Larger elements like floors, cabinets, ceiling, and walls are pale blue, albeit the kitchen counter is orange. That way, you will be able to achieve balance in the kitchen. Moreover, you can look forward to enjoying a well-lit kitchen, be it artificial or natural.
Red

Believed to fuel one's appetite, so it's a great color many often use in their kitchens. But you need to be careful with this daring color, as it can conquer the room making it unleash a dark look if you don't use it cautiously. Breathe new life into your kitchen using the red color on cabinets.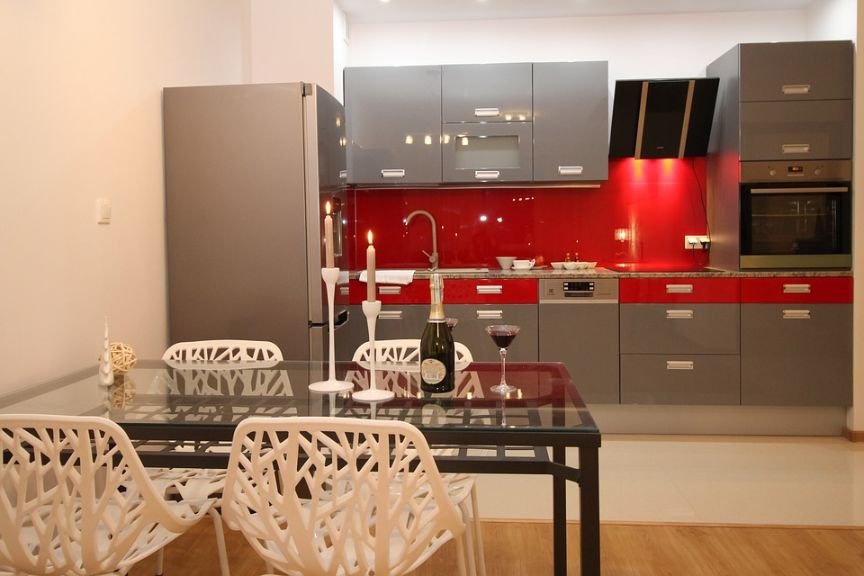 Matte Black

Is there any color that seems sexier than matte black when it comes to colors for the kitchen design in Bangladesh.
Green

Considered smart to be used in the kitchen, you can find several various shades of green, such as mint and apple green that can match up adequately with wood accents. Are you of the adventurous type? If so, then using emerald green is a great idea. A stunning shade, green adds energy to your kitchen when used for cabinets, the floor, or accent wall.
Brown

As you know that your food comes from the earth, brown is the color that is not only reminiscent, but also earthy. If you have been reluctant to use this color, consider using a deep brown for your cookhouse.
Toned-Down Yellow

Many homeowners, as well as designers, have the same opinion that light yellow is no less than a winning color in the kitchen cabinet design. As a friendly color, it prevents one from raising their eyebrows. It's unique in every sense of the word and will go well most types of cabinet wood species. Also, these shades reflect most ambient light, which is considered a plus point if you happen to own a row house or shadowy townhouse.
Cream

Does white feel plain for you? If so, then deciding on a creamer shade is what you should do. It will make your kitchen more inviting and make it bright from every corner.
There's no denying the fact that a fresh coat of paint can add a little something to an old, dull kitchen. But selecting the right colors for kitchen design in Bangladesh is a great decision that is going to change the appearance of the place where you share a freaking delicious meal with your loved ones and guests.
Wrapping Up
If you are looking to make your kitchen incredibly amazing, choose the color that will make it welcoming for the people you are fond of sharing meals with. The kitchen colors will spoil you for choice, but do consider the size of your kitchen to opt for the best of all.