Making your bathroom renovation a success and the process smooth.
Bathroom remodels can prove a tricky thing to plan.
One, because bathrooms are not the room most home owners think about when they think interior design, room decor and remodelling.
Two, because we get huge expectations from certain magazines and websites when we search for bathroom remodelling and decor inspiration.
Here's the deal: Yes, your bathroom too can become as classy and as elegant as those you see in restaurants and on magazine covers. Provided you get the remodelling right.
Here are 10 tips to for a successful bathroom remodelling and renovation.
10 tips to make your bathroom remodelling a success
10 bathroom specific tips plus some bonus tips. Here they are.
Pay attention to ventilation

Reuse existing high quality sanitaryware

Pick the right flooring

Create spacing for extra room

Increase the space for hanging things

Conceal pipework

Add plants

Check whether the lighting can be improved

Add mirrors to the bathroom

Improve the shower area

Bonus tips on bathroom remodelling

Have a budget

Don't make placement changes that you don't really need
Pay attention to ventilation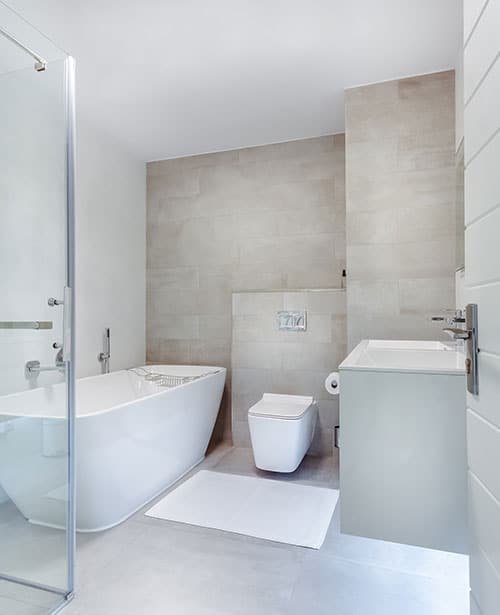 I think you know bathrooms can get damp, especially in the humid Bangladesh climate.
Ventilation prevents moisture buildup, (to an extent) regulates the air inside the bathroom, and ensures you have an optimal time in the bathroom. Bathrooms that are not properly ventilated can cause health problems, for example by developing mold.
Ventilation in bathrooms comes in the form of either windows/vents, or in the form of exhaust fans.
One issue with windows and vents is that they can allow dust from outside to enter the bathroom. Apart from that, you can choose either.
On the other hand, most exhaust fans are noisy, so you'll need to search for the best one you can find that works with the minimum noise.
Pro tip: Ask your interior designer to check whether your current ventilation system is giving you good air flow in the bathroom.
Reuse existing high quality sanitaryware
Always remember, a remodel can become as expensive as you want it to be (more on this when we talk about setting the budget).
To keep costs under control and avoid wasted spending, make sure you reuse existing high quality sanitaryware in your bathroom.
For example, instead of changing your bath completely, you can go for giving it a new surround, or re-enamelling it.
Some good quality spray paint on the fixtures will alter the tone of a bathroom interior completely.
Don't rip out all the plumbing blindly. Use the existing plumbing as much as feasible. While relatively older pipes may need to be replaced, newer pipes can be kept in place.
Pick the right flooring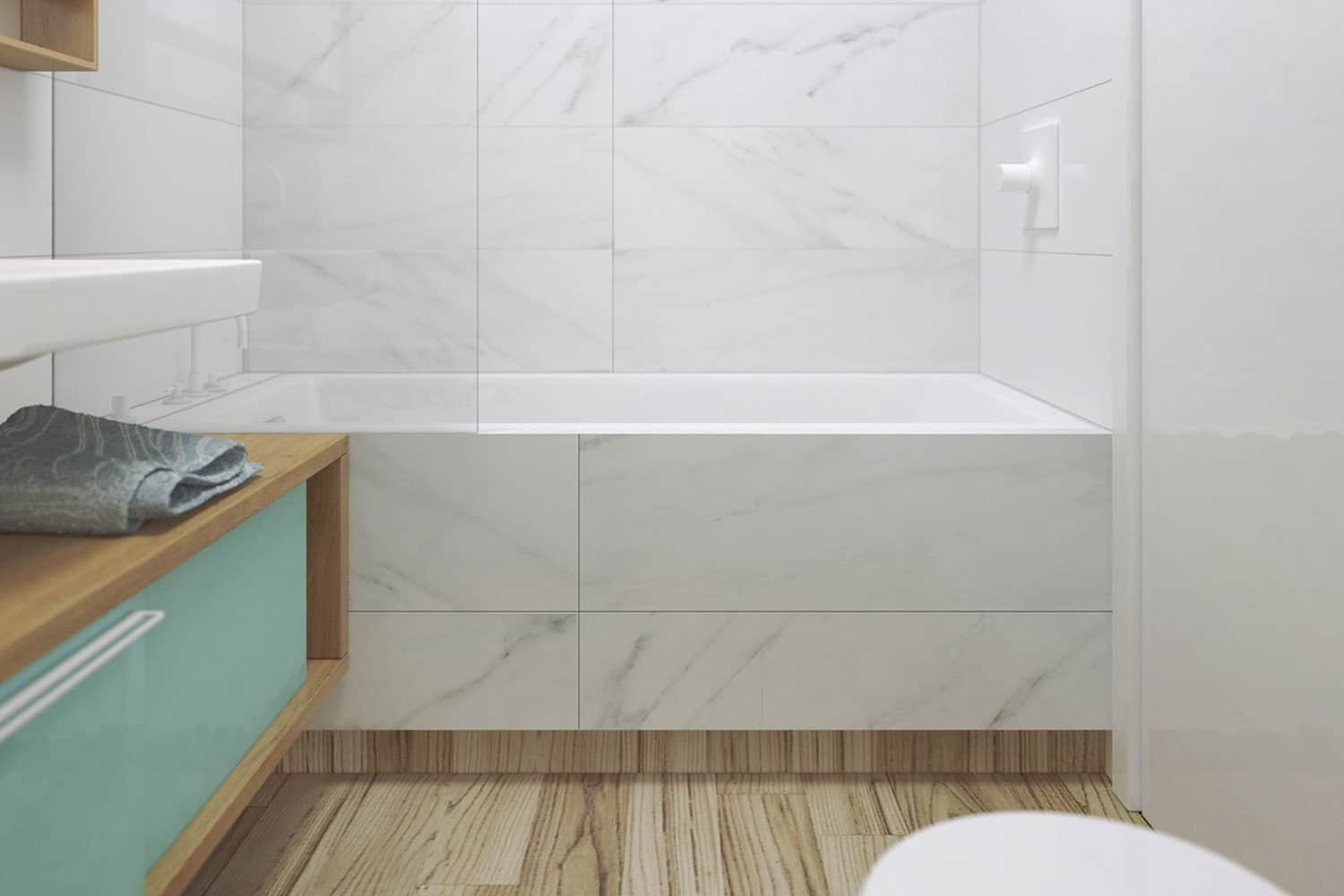 Hardwood flooring – or other types of wood flooring – while they are great for adding character to a bathroom, are NOT suitable for the bathroom environment due to practical reasons (they get spoiled by water and steam, both of which can be expected in a bathroom).
So, pick flooring that can withstand moisture, and other aspects of the bathroom environment.
Our favourites for bathroom flooring include traditional tile flooring, vinyl tile flooring, vinyl plank flooring, and vinyl sheet flooring.
Create spacing for extra room
A lot of the time, we find interior design clients worrying that their bathroom is small and they feel cramped. So how can they have sufficient space to keep things in the bathroom.
Simple. Think how you can add space without encroaching on wall or floor surfaces. Hint: remember the term "built in"?
Add niches and recesses as much as possible for everything you need. Soap dishes, medicine cabinets and even toilet paper holders can be created in niches and recesses built into the walls.
Increase the space for hanging things
This simply follows on from the previous point.
Hanging things like clothes and towels can give you a lot of savings on bathroom space. So, add hanging hooks and rods where you can.
Conceal pipework
Apart from what is necessary, you should have your bathroom pipework concealed as much as possible. Pipework can be concealed in boxing, ceiling and flooring.
This gives the bathroom a clean look and also makes flooring and tiling easier.
Add plants
In our experience, most people don't think about keeping plants in their bathrooms.
However, if you think about it, the benefits of having plants in your room – ranging from filtering dust and some germs from the air to some regulation of the room temperature – would prove very useful in creating a clean and relaxing atmosphere in the bathroom.
To save space, build a floating shelf for the plants.
Check whether the lighting can be improved
Many bathrooms don't get sufficient natural lighting, and the artificial lighting often proves insufficient. Which is not a good thing for a bathroom seeing that we often inspect our faces in the bathroom. Furthermore, poor lighting can destroy a bathroom's character.
Natural lighting: Try to add windows and a skylight (if possible) to your bathroom. With natural lighting, you can see yourself as you would look outside, in the open.
Artificial lighting: Plan for the lighting to avoid casting shadows on your face. Ensure sufficient lighting in the shower/tub area. Add a dimmer system.
Design tip: Changing from other lighting types to LED lighting can save you on your power bills while giving you the same or better brightness.
Pro tip: Try to at least have sufficient lighting around the bathroom mirror.
Add mirrors to the bathroom
Most people think that the only purpose of mirrors is to inspect their appearance. But that's not quite true.
Mirrors have a very important room decor aspect – to enhance lighting and increase room size visually (make the room look larger).
You can add a second, smaller mirror apart from the main mirror above the sink (in which you inspect your appearance). If you have a small bathroom, use large frameless mirrors that span a wall.
Pro tip: Leave some space between the mirror and the wall to allow for air flow and avoid misting, damp and mold.
Improve the shower area
Simply tilting the shower can be a major upgrade to your bathroom. Retiling your shower walls can also make a huge difference.
As the shower is one of the most used spaces in the bathroom, it tends to become a focal point of the room and any improvements to it will make a major difference to the overall feel of the bathroom.
Bonus tips on bathroom remodelling
Some of the tips and tricks that may be general, but important to mention.
Have a budget
Surprised to see this as a tip in a bathroom remodelling post? Don't be.
As we shall see, bathroom remodelling can become quite an extensive exercise with a lot of temptation and opportunities to go on and on. It can become as extensive as creating a new bathroom altogether. That's why it is important to have a budget.
Your main costs will be material costs and labour costs.
Consider these things when setting the budget:
Do you really want to upgrade your bathroom to higher grade materials?

Will you be selling the property within a few years? If yes, do you expect the remodel to add to the value of the property?

Do you want to shift any plumbed-in items?
Don't make placement changes that you don't really need
Remodelling is not really about ripping everything out and shifting it around the room. That only increases your costs without really giving you any benefits. Chances are, you'll grow impatient with the new look as well and want another remodelling within one or two months.
Say you have a small bathroom. Shifting the bathtub may give it a more spacious look, but trying to change the placement of the tap/faucet usually doesn't make for any meaningful change.
Discussing bathroom remodelling with your interior designer
When you discuss your bathroom remodelling project with your chosen interior designer in Bangladesh, make sure you:
Give them a clear idea of what you want.

Tell them whether you want luxury materials or retail materials.

Discuss the issue of damp and mold (as that is something many people forget)
Further reading
To understand and implement these bathroom renovation tips better, refer to the following blog posts.
The 9 most popular types of flooring for a good idea about various kinds of flooring and which ones would be appropriate for your bathroom.
Different kinds of wallpapers and wallcoverings should prove useful in revealing what are the best wallpapers and wallcoverings to use in your bathroom.
A typical interior design project timeline should give you an idea of what kind of time your bathroom remodelling project will take.