These ideas could turn out to be game-changers for your small bedroom!
Have a small bedroom and want to improve how it looks?
Searching for design & decor ideas for a small bedroom?
You're not alone!
Nobody likes to have a small and cramped room but sometimes we have to accommodate ourselves in whatever is available!
HOWEVER
A little bedroom does not have to look or feel small.
You can vastly improve how your bedroom looks and also increase its utility with a little creative and strategic room design.
To help you, we have collected 10 awesome interior design tricks for small bedrooms!
Our tips and tricks for small bedroom interior design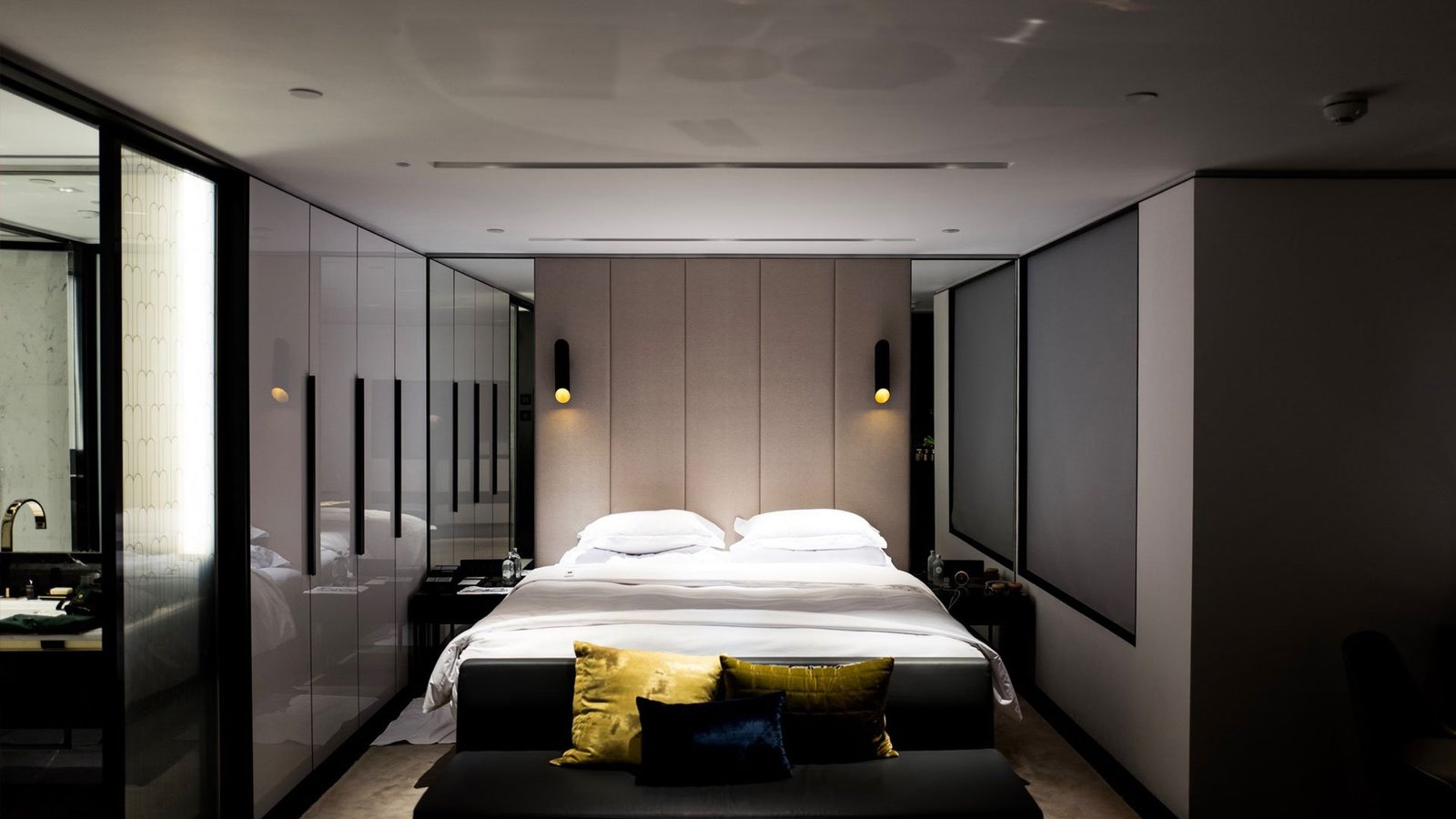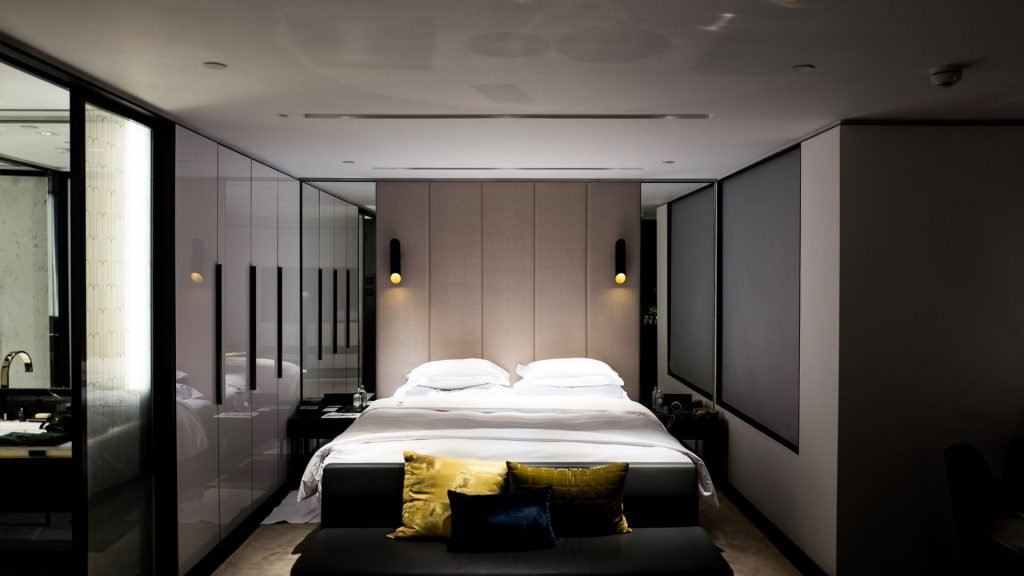 These tips and tricks will make your bedroom into a warm and inviting place where you can rest peacefully, without worrying about feeling cramped for space.
Stack books in a pile on the floor
Get an accent wall
Utilise the corners
Keep things simple
Build custom storage
Keep the scales in mind
Include art in the room
Use reflective surfaces (like mirrors)
Go for high-contrast colours
Go for a bold bed
Read on to understand these bedroom design tips in greater detail. As you read through these ideas, make notes so you can implement them in your bedroom.
Stack books in a pile on the floor
A lot of us do read books in the bedroom while we're relaxing.
However, did you know that books can be a great decor idea for a small bedroom?
It doesn't make sense to have separate storage space for your books when you're already short of space.
Stack your favourite books in a pile on the floor beside an armchair. Put a reading light on top.
There – you have your own side table cum bookcase.
Get an accent wall
Here's a design rule you may find useful – never paint a small space entirely in dark colours. It will only make the space feel even smaller.
However, you can use dark colours creatively, to set off other shades.
For example, in your bedroom, paint one wall in a dark colour.
It will immediately grab eyeballs, becoming an accent piece. On the other hand, it will feel far away, giving the room an effect of having a lot of space.
An accent wall is not just for small bedrooms, it proves useful in a wide range of interior design services.
Utilise the corners
A corner can form what is known as a "nook" – an intimate point where you can relax, chat, read and so on.
Populate it with one or two bright coloured chairs, a stack of books like I discussed before and some cushions and you have a splendid place in your bedroom to relax, apart from the bed.
Plus the room will look more useful and open to accommodating more people, making it seem larger.
Keep things simple
As long-time interior designers in Bangladesh, we often are asked what does "keep things simple" mean in the context of interior design?
Here are some examples of keeping things simple:
Minimal decor, well-chosen and essential furniture and window solutions that allow in plenty of natural light.
Choose some simple artwork too while holding back on unnecessary accessories.
Keeping things simple is a good advice in exterior design as well.
Build custom storage
Alternatively, there are narrow storage options you can consider, like wall built-in storage.
A good custom furniture maker will be able to help you with these ideas.
Add a desk
You may not have wall space, so you can place your bed below a window.
Also, don't forget to add a desk. It can provide valuable storage space and help the bedroom double up as a home office.
Use all available surfaces
A particular challenge in any small room is finding the space to put all your things.
And we have been discussing one or two options for that throughout this post.
But, here's the key thing: make sure you fully utilise all available surface spaces.
Even a windowsill can give you space to add essentials like a bedside lamp, and accessories.
Pro tip: You can maximise storage capacity with floor-to-ceiling shelves. Another idea is to add built-in storage space to your bed.
Here's a sister article: small kitchen design ideas that you can use.
Keep the scales in mind
Everything in the room should be at scale and proportional with the other things. If something is excessively large, it could end up making the room look small.
For example, a high window can be complemented with full length curtains.
Colour, shapes and textures can help with attaining scale and proportion.
Plan your purchases so they work in the available space in your bedroom.
Include art in the room
Art can always light up a room, make it look welcoming and reduce feelings of crampness.
We will suggest going for one major and well-chosen piece of art instead of several smaller pieces.
Artwork of the outdoors, especially of natural areas, can look like a window and add to the room's character.
Use reflective surfaces (like mirrors)
Mirrors have several uses.
One, they reflect surfaces and give an appearance of a lot of space.
Two, they boost natural light.
Three, mirrors can become like pieces of art or accessories themselves.
A large mirror can make the bedroom like twice as large as it is! Can you go for a full-length mirror?
Go for high-contrast colours
Sometimes, simply making the bedroom explore with colours and shades can distract from any lack of space or small size.
For example, a bright red base can be paired with neutrals or even with contrasting shades. Throw in a few accessories for more fun.
Keep things simple, but unique.
Dark wallpaper can sometimes add cosiness, especially if it's suitably textured.
Paint everything – the walls, the ceilings, the headboard.
Paint exposed surfaces white
Many a time you will be faced with materials remaining exposed in your room.
Don't take this as a disadvantage. Take it as an opportunity.
Use a coat of white paint to blend in the exposed material and give the bedroom a wholesome look.
Sometimes of course, layering various shades of white (like creamy and ivory) can make a small space feel spacious.
Pro tip: Don't go overboard. Sometimes, a trendy light fixture and some offbeat paint is all you need to improve your bedroom.
Sometimes, DIY paint jobs can completely transform your home interiors!
Go for a bold bed
Even if most of your bedroom has been designed with neutrals, you can add character with a bold bed. Especially one with textures.
Ready to design and decorate your small bedroom?
Now that you know our top 10 design strategies for a small bedroom, which one did you like the best?
Which ones are you going to use in your own bedroom?
Want to discuss the bedroom with a professional interior designer – get in touch with us!