How to make your small kitchen space look larger and more useful.
Have a small kitchen at home and are looking for ways to make it work for you?
Want to make the best possible use of the limited space available in your kitchen?
You have come to the right place.
Based on our experience of guiding hundreds of home owners and home buyers in various aspects of small kitchen interior design, we can guide you on various ways to make your kitchen work for you, and give you practical space saving and enlarging tips.
How to design a small kitchen to make it as useful as possible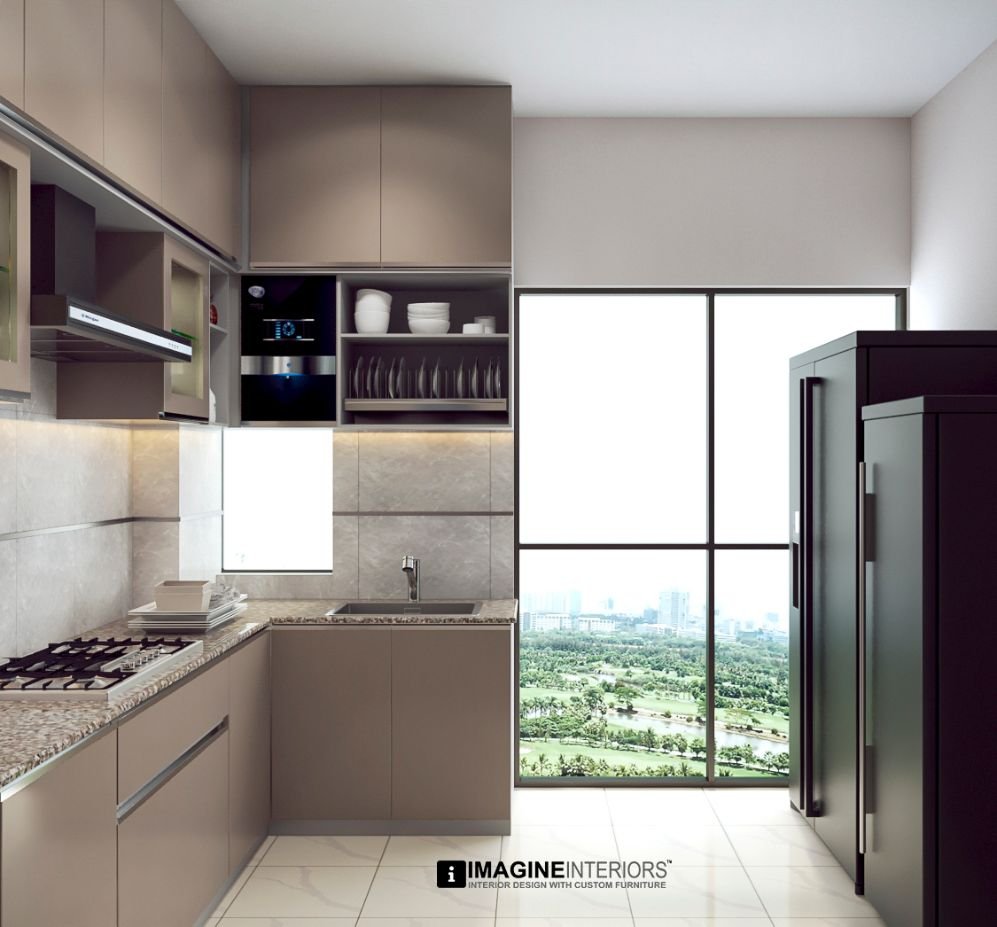 Some of the things we will suggest here are tried and tested.
Others we have seen and innovated ourselves, based on our years of experience in the home design space in Bangladesh.
So, let's jump right in and look at interior design ideas that you must try for your small kitchen in Dhaka.
Make the cabinets smooth and modern
Effective kitchen cabinet design is a key part of making the best possible use of your kitchen space.
Small kitchen cabinet design can be a defining element of such a small space.
Replace large and heavy knobs and handles with smaller handles, magnetic strips and finger pulls.
This gives your kitchen cabinets a minimal look, making the room appear larger.
For kitchen cabinet design specific to your needs, consult with a good custom furniture designer.
Can you replace kitchen cupboards with drawers?
Here's why: Cupboards cannot store as many things as drawers or pull out containers can. They are slightly inefficient as far as storage capacity is concerned…although aesthetically they might score over drawers.
Whereas in a cupboard objects can disappear into the back, all contents in a drawer are easily accessible and more drawers can fit into the space of a single cupboard.
So, try to replace cupboards with drawers. Or at least, install pull-outs inside your cupboards.
Consult with a good kitchen interior designer on ways of expanding storage space in your kitchen specifically. They will look at your kitchen and give you implementable tips and design ideas.
Extend cupboards to the ceiling
See that space between your cupboard's top and the ceiling?
That's valuable storage space that you are wasting. It's also extra maintenance labour for you, as cleaning the dust on the top of the cupboard is a difficult task.
So, extend your kitchen cabinets to the ceiling, or add new cupboards in that space to store more items.
Designer's Insight: Cupboards going all the way to the ceiling will draw eyeballs upwards, making your kitchen seem taller.
For general kitchen design tips, you can look through our blog post on tips and tricks for kitchen interior design.
Add shiny, reflective surfaces throughout the kitchen
This is a good way of creating an appearance of lots of space.
Reflective surfaces like glass and mirrors will make your kitchen seem larger than it is, and make it seem like it doesn't end where it actually does. It's because of light play and reflections.
Apart from mirrors you can incorporate glass into your cabinets and install a backsplash using reflective tiles.
Designer's Insight: Metallic finishes on wooden cabinetry also have a similar effect.
You can get further inspiration on this and other tricks from our blog post on making a small room look larger.
Go for single or related colour design
In interior designer jargon, this is referred to as going for a single palette design..or stick to colours within the same family, like white and creamy for example.
That will give you an expansive look, without hard borders between shades.
Designer's Insight: If you want to experiment, please stick to at most 2 variations. Have a neutral backdrop with some bright colours on appliances, cupboards, shelves and a backsplash.
White is actually a great choice for small kitchen design colour
But do remember to use different shades and textures at different places. Otherwise you will end up with a monotonous and boring space.
Designer's Insight: Glossy, matte and wood textures and off-white, ivory, eggshell and grey are some of the shades you can try.
For general kitchen design colour tips, please visit our blog post on the best colours to use in your kitchen.
See if you can have an open layout
What is an open layout/floor plan? An open layout is one where instead of different rooms separated by walls, there are functional areas short distances from each other.
Having an open layout will automatically make your small kitchen look bigger. It's an ideal design tip for a small kitchen.
A kitchen that includes a dining area won't look as cramped as it would look on its own.
If you want to have a countertop as an accent piece, here are the 10 best materials for a kitchen countertop.
Have a lot of open shelving
Open shelves are a classic budget design idea for small kitchen spaces, as they give an illusion of space, opening up your walls and making your kitchen look cheerful and large.
Closed wall cabinets, on the other hand, simply reduce the total visible space and make your kitchen feel more cramped.
Ensure ample light play
One way to do this is to fit in a window that leads to the open and lets natural light enter.
This reduces some storage capacity, but gives your kitchen a cheerful look which is very important to counter the stuffy feeling that can happen in a small kitchen.
Add plants to your kitchen
You will be surprised how good decorating options with houseplants and potted herbs are.
They can bring your kitchen to life, filter dirt and maintain an optimum temperature.
All of which will reduce feelings of stuffiness in the kitchen making it seem a great room to be in!
Some more small kitchen design tips and tricks
Reduce the number of appliances to as few as possible.
Go for multi-purpose appliances.
Try to have as many things "built in" as possible to reduce the need for counter space.
Go for pot racks and cutlery hooks.
Install drawers wherever possible.
Fix storage baskets to the open side of your wall cabinets.
Add shelves above the sink.
Ready to design your small kitchen?
Hopefully this blog post has given you plenty of ideas and inspiration to come up with your own design and decor plans for your small kitchen.
If you would like further and more detailed plans that can have a big impact on your small kitchen, please go get in touch with Imagine Interiors!