As a leading interior design firm in Bangladesh, Searchmetry takes its obligation to keep its followers updated about all kinds of interior design and decor trends (including living room design) very seriously.
 When you visit someone, what's the room you spend the most time in?
Alright, maybe that wasn't the best way to start an interior design blog post – which room you spend the most time in will vary from person to person. However, in many cases, you would spend most of your time in the living room. After all, a living room is defined as the room where one socializes.
 Now you know – for a fact – that your living room is being put under the microscope every day.
After all, every human being has their own interior design dream and when they are in your living room, they will be comparing it to their own design dream, pointing out errors and judging what they like and what they don't about your living room design. So, clearly, the living room is the room that can make or break the mood of a visitor to your home. And, as a leading Bangladeshi interior design company, Imagine Interiors is committed to democratizing interior design in Bangladesh and spreading knowledge of interior design among people.
That's why we've decided to tell you about the 9 living room interior design mistakes to avoid in 2019. So when people visit you, they will be amazed at how well your living room is designed! 
Living Room Interior Design Mistakes To Avoid In 2019
1 – Too Little Colour
Yes, minimalism has been an interior design trend in 2019. So you may think it's the #trend to not go for a lot of colour in your living room. However, that can prove to be a mistake. A colourless living room can be seen to be soulless and lifeless rather than minimalist.
So, if you are stuck with a little to no colour living room, what do you do?
Don't just splash paint all around. Proceed in baby steps. In fact, you should start off not with actual paints, but with stuff like coloured pillows and artwork, which are easily removed or changed. Proceed to actual paints (which are much more difficult to remove) slowly. 
2 – Choosing The Wrong Sofa
What is the function of a sofa in interior design and decor?
A sofa has two functions as far as interior design and decor are concerned
To provide a place for people to sit.

To serve as a decor piece.
So, selecting the right sofa is critical in living room interior design.
So, what should you do?
Draw a floor plan of your living room. You can use the

MagicPlan app

to create the sketch.

Plan where the sofa best fits from an aesthetics point of view.

Choose an appropriate colour for the sofa.
Please remember that a sofa which is too low may look good but it will be a big hindrance to comfort. So, avoid such sofas.
Pro tip: While buying a sofa, consider the shape of it, the colour and also the fabric. 
3 – Falling Into The 'Showroom Look'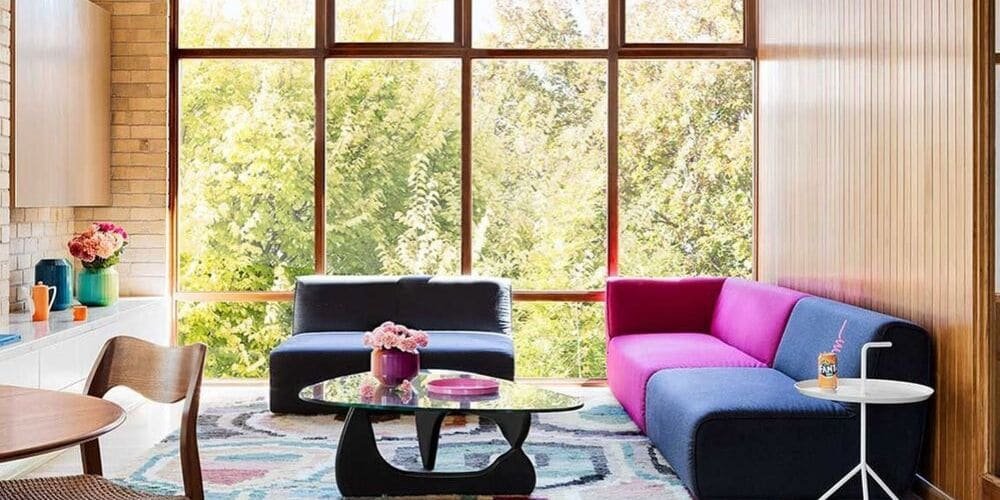 First of all, what is the 'showroom look'? Your room gets a 'showroom look' when
You get all your furniture from the same store.

You forget to personalize the room; so it looks like nobody lives there.
So, how do you avoid the 'showroom look'?
Buy furniture from different stores. Mix things up and bring variety into the decor.

Remember to have artwork and the small decor pieces that add life to a room.

Have low-level lighting spread over several lights rather than a central high light.
4 – Get A Wrong-sized Rug
What is the right size for a rug?
If you are placing the sofa on it, it should be large enough so that when people on the sofa stretch out their legs, the legs will fall on the rug and not on the floor.

If all the furniture in the living room can be kept on a

single rug

, better.

If the rug can cover the entire room, best.
5 – Not Having A 'Zen Spot'
Please remember that the living room is also the space where you will spend a lot of your own time as well. So, it would be good if you can locate and design your own 'zen spot' within your living room. It would be good as per the 'wellness design' paradigm of interior design and it would also look quite attractive.
 To sum up, the 5 living room interior design mistakes to avoid in 2019 are
Too little colour

Choosing the wrong sofa

Falling into the showroom look

Getting the wrong-sized sofa

Not having a 'zen spot'
Imagine Interiors wishes you all the best in your living room interior design endeavours!